Discover what a village school and Harvard University have in common…
When wealthy merchant William Pennoyer left money in his will to start a free school in Pulham St Mary, little did he know his vision of a village school would continue from 1674 until 1988!
What is now a vibrant heritage centre for its local community and businesses, started life as a medieval Guild Chapel and then became a free school.
Pennoyer recommended the school was run in 'the little chappell that stands there'. (The Pennoyer Centre's Guild Chapel.) Pennoyer's legacy paid for a schoolmaster to educate the sons of Pennoyer's tenant farmers, and also any fatherless boys in 'Pulham Mary, Pulham Markett and the next adjacent places.'
Building alterations
In 1790, 116 years from when the school first opened, a belltower and bell were added to the chapel roof. In 1869, by removing the Guild Chapel's east end and window, the school was extended with another classroom and a porch. In 1875, additional land was bought on Station Road, enabling further extensions to the school building, and a house for the School Master. This Victorian section hides the original chapel building from view.
Attendance
In the second half of the 19th century, several schools were set up in the area, including three 'dame schools' (an early form of private elementary school) in Pulham St. Mary, and a new school in Pulham Market. This led to a decline in numbers at Pennoyer's School. A report in 1867 states only 16 boys and six girls attended.
However, by May 1870, the number of children had increased to 107, probably as a result of the improved premises.
The 1880 Education Act made education compulsory for children between the ages of five and 10, unless taught privately at home. This was hard for many families, as they had to pay for teaching. The poorest pupils in Pulham had help through the legacy of William Pennoyer.
The Education Act of 1902 brought both elementary and secondary education under one authority, and provided funds for voluntary schools, like Pennoyer's, to run the school.
What became of Pennoyer's School?
By the late 1980s, the County Council decided one school was sufficient for the Pulhams, and Pennoyer's Free School closed in 1988. Until … 2006, when another group of Pulham locals banded together and restored the building!
Once more the Guild Chapel and Pennoyer's School were reborn into a wonderful community heritage venue for everyone in Pulham and surrounding areas to enjoy.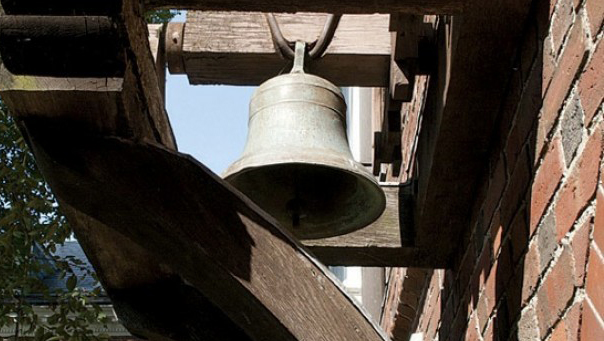 Did you know?
In 1947 the bell from the school roof was shipped to the USA, to a descendent of William Pennoyer, who offered it to Harvard University, where it now hangs outside Leverett House and is rung on state occasions.
The school opened in 1674 and ran continuously until it finally closed in 1988. At that point, Pennoyer's School is believed to have been the longest-running elementary free school in the country.
Learn more about Pulham St. Mary's Pennoyer's free school.