Registered before? Log in to use your saved details.
If you registered an account, please enter your details below to login. If this is your first time, proceed to the donation form.
Why support The Pennoyer Centre
The Pennoyer Centre is a Charity at the heart of its community serving local people and preserving the local heritage. It has a diverse heritage and has so much to offer local people both now and in the future. We need your help to ensure it continues to serve this and future generations and is available for everyone to enjoy.
Perhaps you have visited our Airship Museum, enjoyed some delicious home-made cake and a coffee in our fabulous café, taken part in one of our special events or celebrated an occasion with us in our beautiful venue.
There are many reasons you may consider making a donation to The Pennoyer Centre, including:
Helping us to run more social events to bring people of all ages together, for example our lunch clubs, knit and natter groups and activities to engage school children and their families. Reaching out to older people who may be lonely or isolated offering them friendship, or organising activities that engage young children and their families.
Running sessions to help people develop new interests and learn new skills, building confidence and self-esteem and broadening their horizons. These activities foster connections, expand support networks and forge a sense of community.
Championing local artists through helping us to stage events such as art exhibitions and musical performances, maintaining our role as a thriving, small arts venue
Celebrating and preserving our local heritage. This unique building captures our local history and heritage very well
Preserving the Medieval Guild Chapel dating back to the 15th Century
Promoting the History of Pennoyer's Free School established in the 17th Century by the Puritan merchant, William Pennoyer
Maintaining the Airship Museum and archive of airship memorabilia relating to Royal Navy Air Station (RNAS) Pulham, commemorating the airships that used the base when patrolling the North Sea searching for U-boats in WW1, as well as hosting the famous R33 and R34 passenger airships
Reaching out to older people who may be lonely or isolated offering them friendship, or organising activities that engage young children and their families
Donations, even small amounts, can make a big difference whether you wish to make a regular donation or a one-off gift.
Make a regular donation
With your support we can preserve an important community space, asset to local business and iconic South Norfolk landmark.
Fantastic Fundraisers!
Some sit in baths of baked beans, some become the Pink Ladies and drive tractors, some shave their heads, others think to climb Mount Kilimanjaro, some fools join the Tough Mudder challenge…
We don't mind how crazy your fundraising idea might be, we'll support you 100%! If you're looking for fundraising ideas why not read our A-Z of ways to get involved!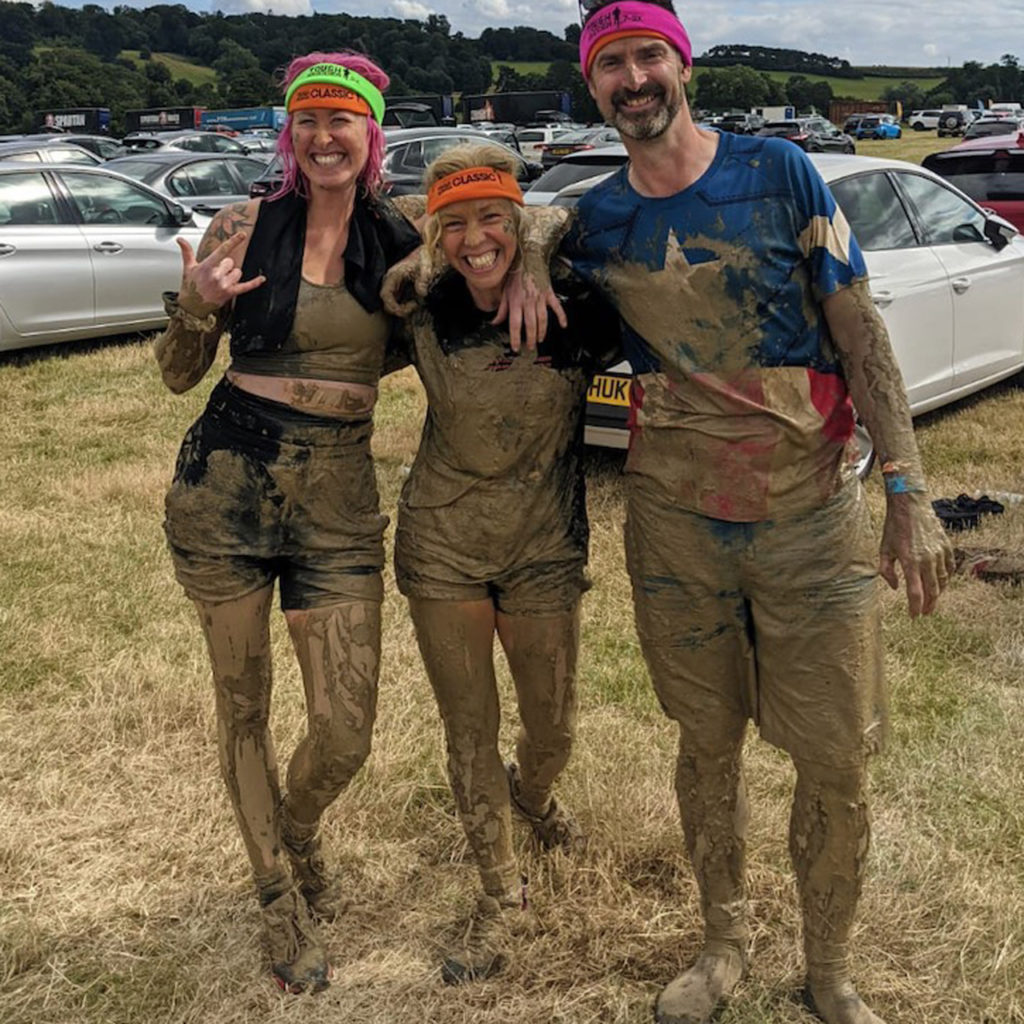 Karin Carruthers
One of our trustees, who is clearly dedicated to our cause, as she's willingly chosen to enter the Tough Mudder challenge for our cause! Sadly it was cancelled in May 2020 year due to Covid-19, Karin was back on it last year and in August completed her first Tough Mudder. Working out at least four times a week, carrying wildebeest on her back and crossing rivers of crocodiles, (that's what she's saying) Karin's devotion knows no limits! She also climbed Snowdon in order to train for the Mudder challenge!
Karin raised over £1,300 for the Pennoyer Centre so far.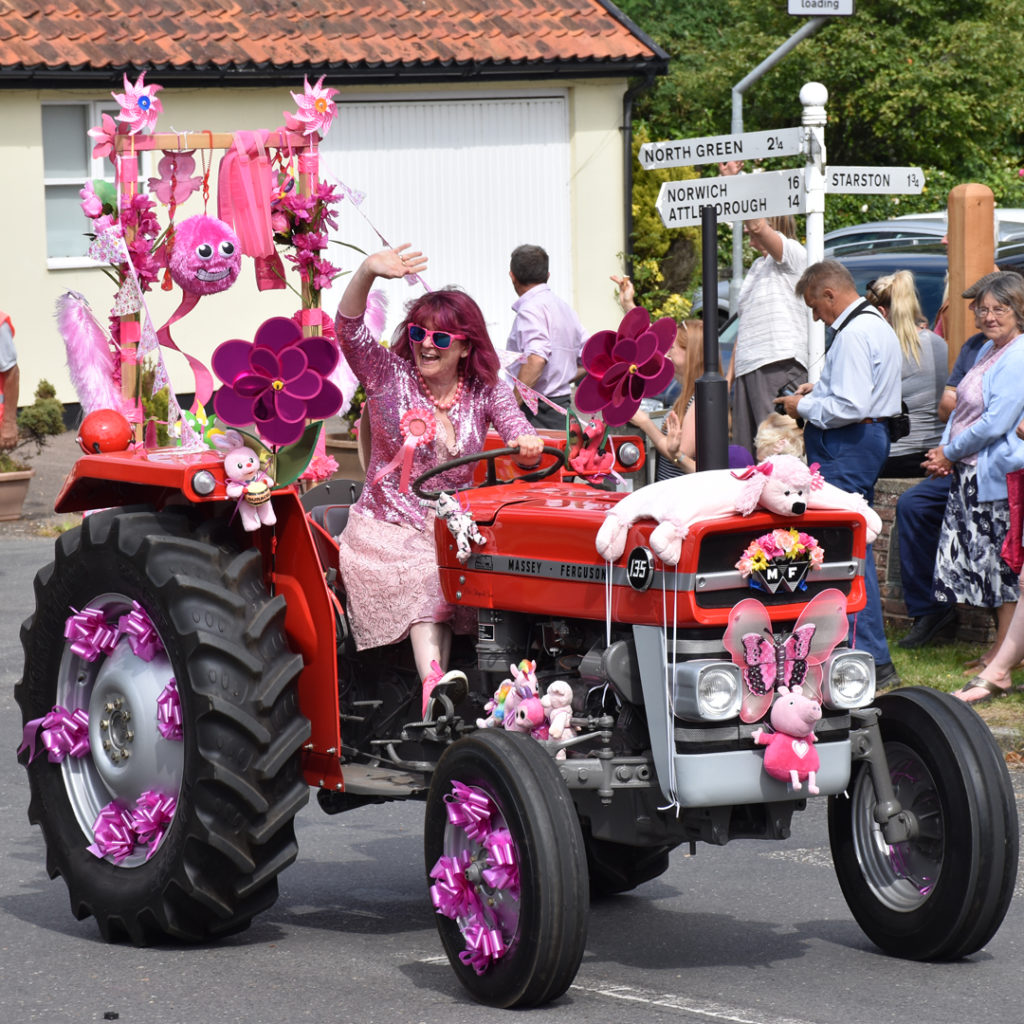 Kath Jones
Volunteer Kath Jones has organised charity auctions at The Pennoyer Centre, working in tandem with national charitable causes such as Prostate Cancer UK and CRUK. So far over £5,000 has been raised, shared across The Pennoyer Centre and the two cancer charities. The picture here features Kath on the annual Pink Ladies' Tractor Run which passes by the Centre in Pulham St Mary and is organised locally to raise funds for CRUK breast cancer research. Kath also fundraises for Pennoyer's by organising two Craft Fairs each year.
Other ways you can support us
By using the Donate button on our website
By bank transfer direct into our account (details)
Putting cash in our donation box in the Centre foyer.
By cheque made out to The Pennoyer Centre and sent to: The Pennoyer Centre, Station Rd, Pulham St Mary IP21 4QT
Over the telephone by calling 01379 676660
Find us on Amazon Smile at https://smile.amazon.co.uk/ to give as you shop, at no extra cost to you.
Raise money by doing your shopping online and supporting this at easyfundraising.
Join our One Hundred Club for £12 a year with a chance to win some great cash prizes every month.
Visit our What's On page to find out about fundraising events happening at the centre.
Gifts in wills – find out more about preserving the Centre for future generations.
Read our full A-Z of ways to get involved.
Volunteering – if you have some free time and want to help your local community. The Pennoyer Centre offers a range of volunteering opportunities where you can get involved and meet new people.